Ideal for couples (plus a sofa-bed) with all the modern conveniences of a city studio apartment and the cosy comfort of a mountain village. Bright, colourful and stylish the studio Apartment is perfectly located at the iconic Postmaster's in the beautiful riverside township of Derby.
The world renowned Blue Derby MTB Trails are literally metres away. Enjoy the exhilarating action of Derby's famous bike trails, its picturesque river charm and wonderful mountain and lakeside walks.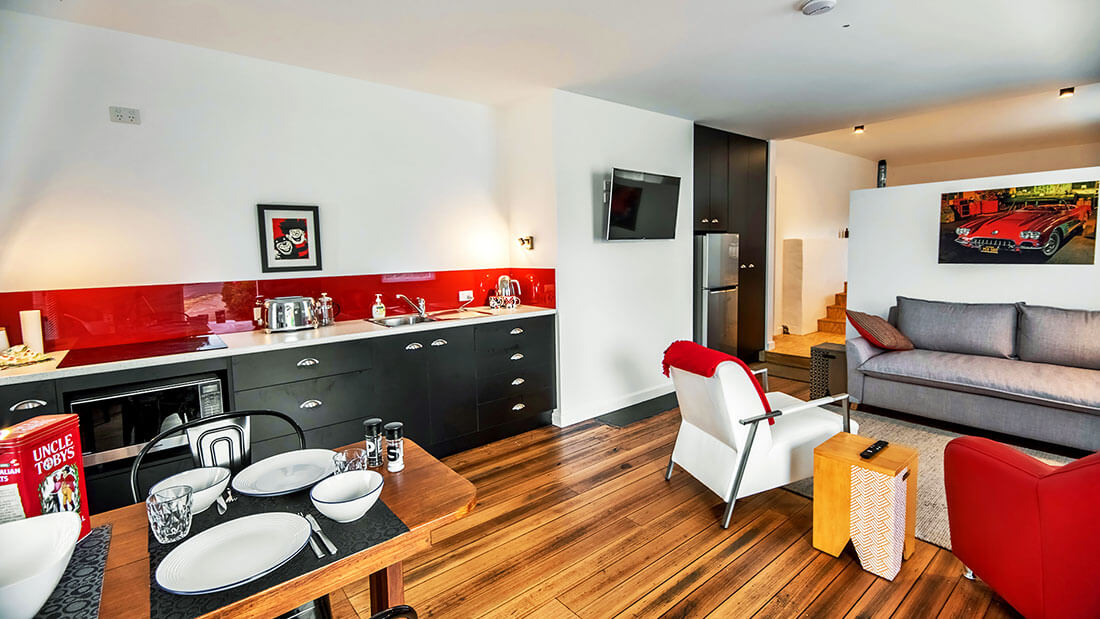 Cosy and Colourful
BEAUTIFUL TIMBER FLOORS AND COLOURFUL FURNISHINGS MAKE THE POSTMASTER'S APARTMENT A WARM AND WELCOMING HAVEN IN THE CENTRE OF THE MOUNTAIN VILLAGE OF DERBY. THE PERFECT GETAWAY FOR ROMANTIC COUPLES AND SMALLER GROUPS.
Quality and Comfort
A WELL EQUIPPED KITCHEN WITH QUALITY APPLIANCES, AIR-CONDITIONING, SMART TV, HIGH SPEED Wi-Fi AND LEATHER FURNISHINGS PROVIDE THE COMFORT OF A CITY APARTMENT WITHIN METRES OF THE WORLD RENOWNED BLUE DERBY MTB TRAILS.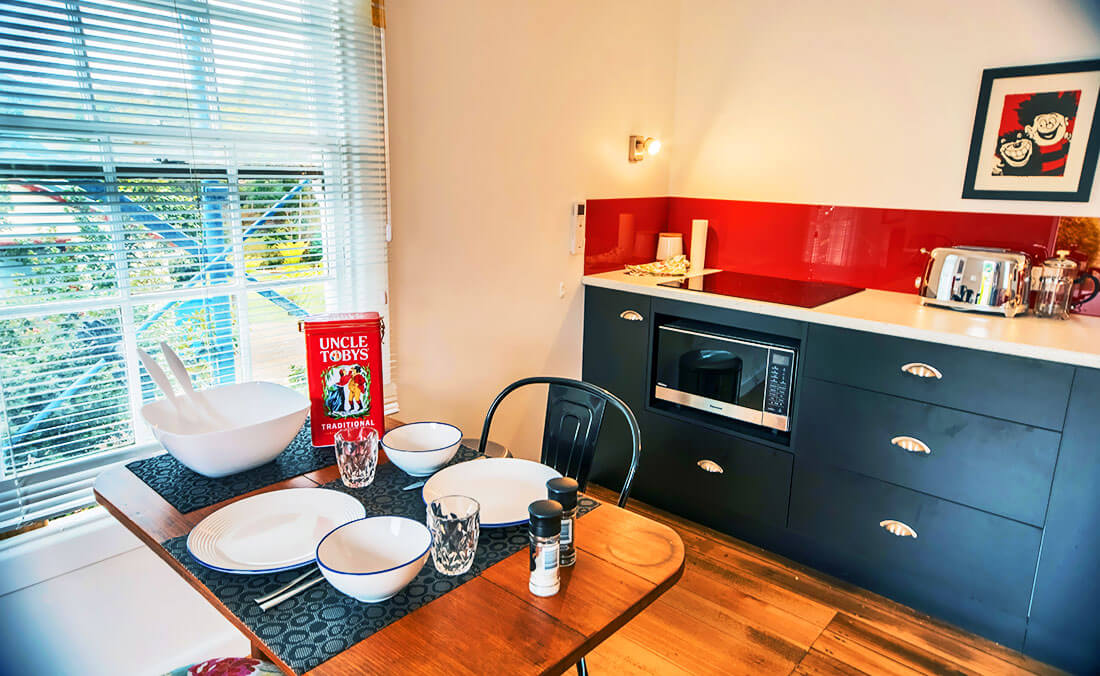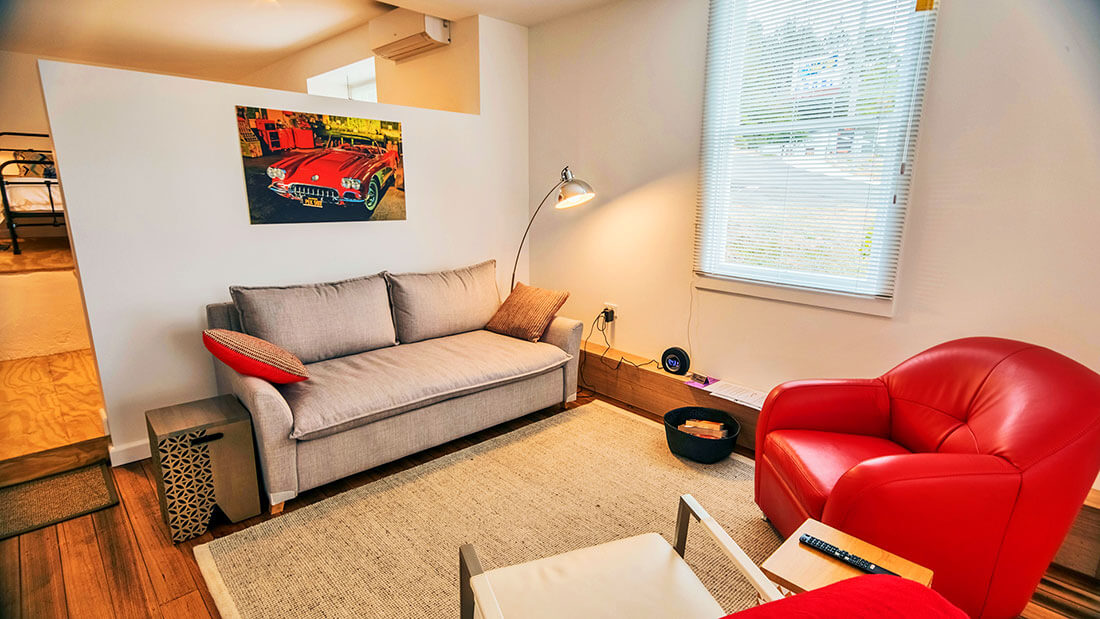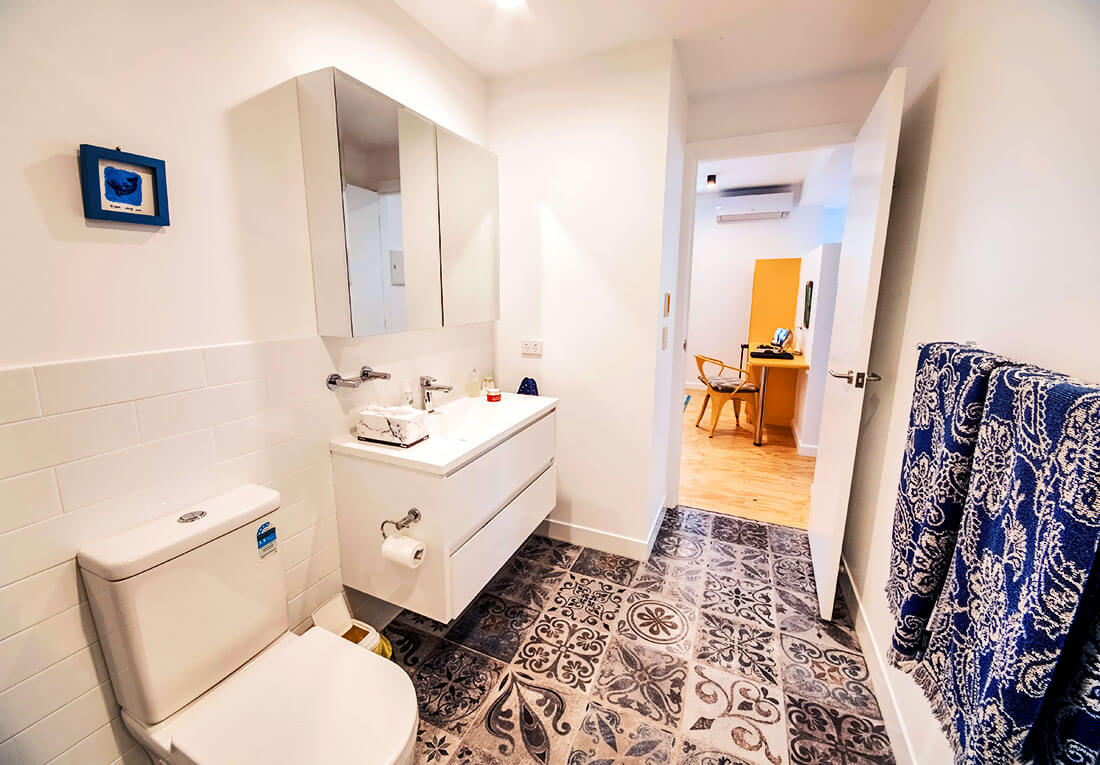 Spacious and Stylish
THE LARGE EN-SUITE FEATURES STRIKING SPANISH TILES AND IN-FLOOR HEATING OPENING TO A PRIVATE DRESSING AREA WITH BUILT-IN ROBE, DRAWERS AND COMPUTER DESK.
THE SPACIOUS BEDROOM AREA ON THE POSTMASTER'S ORIGINAL MAIL-ROOM PLINTH IS A LOVELY SPACE FOR A GOOD NIGHT'S REST AND THE QUEEN SIZED BED FEATURES HIGH QUALITY LINEN, DOONAS AND PILLOWS.
Perfect for two or more
THE POSTMASTER'S APARTMENT IS POPULAR WITH COUPLES SEEKING A COSY BUT MODERN GETAWAY SPACE.
THE COMFORTABLE DOUBLE SOFA-BED IN THE SITTING AREA ALSO MAKES IT POPULAR WITH YOUNG FAMILIES AND SMALLER GROUPS.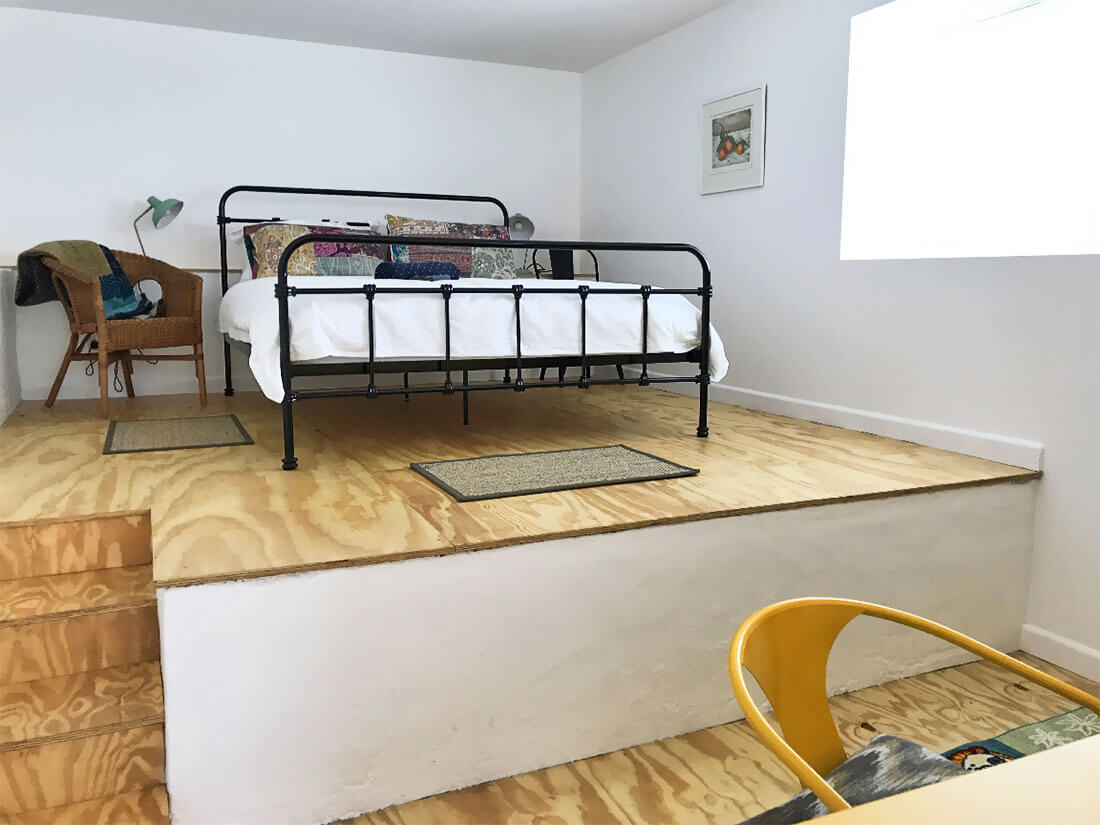 At your doorstep
THE APARTMENT HAS ITS OWN PRIVATE ENTRANCE AND FRONT COURTYARD JUST METRES FROM ALL THE LOCAL RIDING AND WALKING TRACKS. JUST AROUND THE CORNER TO DERBY'S CAFES, PUBS, BIKE HIRE AND SHUTTLE SERVICES, AND ACROSS THE ROAD TO THE BIKE WASH.
THERE IS YOUR OWN PRIVATE BIKE SECURITY AND LAUNDRY SHED AND YOU CAN ENJOY A BBQ IN THE POSTMASTER'S LARGE COMMUNAL GARDENS AND BACKYARD.
The Apartment at The Postmaster's
Perfect STUDIO STYLE for couples…
Well equipped kitchen

Large en-suite with heated tiles

Smart TV and high speed free Wi-Fi

Private laundry with quality machines
Air-conditioning

Plus double sofa-bed for extra guest(s)

Private bike security shed

BBQ in Postmaster's backyard